<!- box:side-2 -->
About Us
Alumni
Directions
In the News
Quotes & Testimonials
Uniforms
Quotes & Testimonials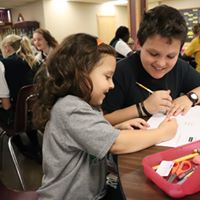 Our new families chime in on their experience so far at RCS.......
"We have been so impressed with all the precautions and planning that has been put in place to open the school in a safe yet welcoming way. Communication between school and families have been excellent. The carline videos helped prevent any anxiety with what to expect while starting a new routine. The virtual Back to School evening was great. The teachers, students & families have been very welcoming and going the extra mile to help the new kids feel comfortable. We are so happy that we chose RCS to be our new 'family.' "
"Our experience so far has been wonderful! After being home for such a long time I was sure this would be a hard transition, but both kids did great. They love their teachers and are excited to go to school. The teachers have been great communicators and quick to respond to emails. Thanks for all you are doing to create a safe and engaging learning experience!"
"We are doing great! Beyond happy with our decision to join the RCS community. If it's this great during a worldwide pandemic I can't imagine how great it will be when we have some normalcy back!"

A Dozen Reasons...to Choose Catholic School & Resurrection Catholic